One of The Best Uber Accident Lawyer in Los Angeles, CA
We're a group of trusted and experienced injury lawyers helping victims of Uber Accidents.
The notoriety of Los Angeles' traffic patterns, especially on the 405, has made national news. No one enjoys spending hours navigating bumper-to-bumper traffic, but unlike cities with extensive subway systems, LA poured millions into its complex freeway network. This infrastructure leaves commuters priced out of the Los Angeles housing market, UCLA students, residents, and tourists with fewer travel options. As such, the Los Angeles rideshare market is booming. Why fight LA traffic when you can summon an affordable Uber driver to do it for you?
Founded in California, Uber operates extensively throughout the state. Uber's convenient and affordable rideshare app has changed the way Californians travel, but the service doesn't come without risks. Nearly anyone with a relatively safe driving record and an operable vehicle can become an LA Uber driver. You do not need experience navigating the 405 to hire yourself out to do so. This inexperience, combined with the unprecedented volume of Los Angeles vehicle traffic, often leads to devastating Uber accidents.
Recovering compensation after an LA Uber accident often involves complex legal regulations, extensive medical bills, multiple defendants, and various insurance claims. Maximizing your financial compensation following rideshare crashes often means working with qualified legal counsel. For help navigating your case, you need the experienced Los Angeles Uber accident attorneys at The Ride App Attorneys.
How Uber Accidents Legally Differ from Everyday Car Crashes
Uber became a Fortune 500 company using a uniquely effective business model. Uber provides an online transportation network (Uber app) connecting local drivers with available passengers instead of hiring drivers to operate company-owned vehicles, like taxis. Drivers use their personally owned vehicles to provide rideshare services through the Uber app. These drivers do not work for Uber or drive Uber-owned vehicles. While this system gives drivers flexibility and costs less than traditional taxi services, it generally insulates Uber itself from car accident liability. This isn't the case in traditional taxi accident cases, which impute liability on the negligent driver, vehicle owner, and driver's employer under vicarious liability principles.
Since Uber's launch, numerous questions arose about its corporate responsibility for motor vehicle accidents. For example, is Uber responsible for an Uber driver injured by intoxicated passengers in LA? What if Uber contracted with an unsafe driver or connected passengers with poorly maintained vehicles? A personal injury claim against rideshare companies often hinges on complex details and applying California's Protect App-Based Drivers and Services Act (Cal. BPC §§ 7448, et seq.). Only certain attorneys have the unique experience necessary to recover maximum compensation for claimants following Uber accidents.
Common Causes Of Uber Accidents In California
Rideshare drivers must pass background checks, but the drivers are susceptible to causing the same types of accidents as other drivers. Several factors may cause rideshare accidents, including those below.
Many factors are relevant to Uber accidents. Some of the most common causes of Uber accidents include:
Speeding
Uber drivers move through traffic quickly to obtain more passengers and complete more jobs. Rushed drivers may speed to reduce the time spent on individual rides. Dangerous speeding can cause rear-end collisions and other types of motor vehicle crashes.
Fatigue
Rideshare drivers often have two or more jobs and may be susceptible to fatigue and mental exhaustion. Drivers who become drowsy while operating a motor vehicle can be almost as dangerous as drivers who operate motor vehicles while intoxicated.
Fatigued drivers cannot stay awake and become exhausted due to working too many hours. Sleepy drivers may lose consciousness and cause severe bodily injuries to themselves and others.
Uber drivers also use applications and speak with passengers. Distractions like these can cause motor vehicle accidents in congested areas.
Smartphone applications enable rideshare businesses to connect drivers and customers. Drivers use smartphone GPS applications to obtain directions for every destination to which they are traveling. Application use may cause the driver to lose sight of other motorists and look away from the road.
What If My Family Member Died In An Uber Accident?
Wrongful death statutes in California are relevant when an individual dies due to the negligence or willful actions of another party. If a family member was killed during an Uber accident, the surviving family members have the legal right to recover damages. Ride App Law Group, LLP can also represent you if you think you have a wrongful death claim.
Family members may receive monetary compensation for the following damages:
Lost income the deceased would have earned
Loss of consortium
Loss of companionship and family support
Funeral expenses
Burial fees
A survival cause of action typically accompanies a wrongful death claim. Survival statutes allow the decedent's estate to bring an action for monetary compensation for damages suffered by the decedent before their death. These general damages usually concern pain, suffering, and emotional trauma.
What Should I Do After An UBER Accident in Los Angeles California?
The accident scene at a motor vehicle collision caused by an Uber driver can be confusing and dangerous. These are some important steps injured victims should take after a traffic accident caused by an Uber driver:
Take photographs of the adverse driver's license plates, driver's license, and automobile insurance policy.
Take photographs of any bodily injuries you suffered as a result of the traffic collision, including property damage to your vehicle and the position of the vehicles.
Contact the police department or sheriff's department and call for medical assistance if you need immediate medical treatment.
Record notes of details pertaining to the insurance information of every driver involved in the traffic collision.
Schedule an appointment with your primary care physician for immediate physical assessment.
Contact Ride App Law Group, LLP for a free consultation.
What you do or don't do following an accident can help protect your rights to compensation. However, never think that all hope is lost if you do not take the above steps. Instead, you should contact a rideshare accident lawyer as soon as possible. We can assess how to best proceed based on what has happened so far. The most important thing you can do after ensuring you have proper medical treatment is to seek the legal help you need.
Do I Need to Communicate Directly With Uber's Insurer to Process My Claim After An Accident?
You should not speak with Uber's insurance company before retaining an attorney and seeking legal advice regarding your claims. Uber's insurer is a for-profit business, and its aim is to pay out as little financial compensation as possible. Denying or reducing claims is one method insurance companies use to reduce costs associated with motor vehicle accidents.
Many company representatives will attempt to make you admit liability or record a statement that will restrict your ability to make a claim. You should speak to an Uber accident attorney at Ride App Law Group, LLP before you share information regarding your claims with Uber's insurance representatives.
Do I Still Need To See A Doctor If My Injuries Are Not Life-Threatening?
Although you may think your injuries are not serious, you still need to see a medical professional because some medical conditions may not produce noticeable symptoms until days after a motor vehicle accident. Hidden or undisclosed injuries are often unveiled by an evaluation from physicians, nurses, and other medical professionals. You do not want to develop significant symptoms or medical conditions that you do not get diagnosed with until too long after the date of your motor vehicle accident, which can also lead you to owe thousands of dollars in medical bills.
Physicians will document your injuries in medical records and billing records. Providing documentary evidence of your injuries will help you prove damages as your case progresses. Victims of an accident involving Uber should see an emergency room physician, an urgent care physician, or a primary care physician if there is a suspicion of any possible injuries.
Case Results
Personal Injury / Wrongful Death Result

$9.8Million

Personal Injury / Wrongful Death Result

$3.4Million
California's RideShare and App-Based Driver Legislation
Are UBER (App-Based) Drivers Independent Contractors?
The Protect App-Based Drivers and Services Act (Prop 22) generally protects Uber from car accident liability. However, qualifying transportation network companies must follow strict insurance, labor, and user safety guidelines to trigger these protections. Under BPC § 7451, Uber drivers remain independent contractors (insulating the rideshare company from vicarious liability claims) only if:
The company does not require drivers to accept requested services, including rides and delivers, or penalize them for refusing to do so
The company allows drivers to set their schedules and does not have hourly minimums
The company does not prevent drivers from working for rideshare competitors, i.e., Lyft or DoorDash, when not driving for Uber
The rideshare company does not prevent or penalize drivers for engaging in any other lawful occupation
Whether by pressuring drivers to accept more requests or penalizing those working with competitors, violating the above terms may strip Uber of certain legal protections. The driver could become an Uber employee under California law, allowing injured rideshare passengers, pedestrians, and other drivers to hold Uber itself responsible for their injuries.
Does UBER do Drivers Background Checks and Safety Training?
Uber must conduct local and national criminal background checks on potential drivers. It may not permit unqualified drivers to utilize its rideshare applications, such as certain felons. Applicants convicted of qualifying sexual offenses, felonies, and serious vehicular crimes – including drunk or reckless driving – cannot drive for Uber. The company should continue monitoring for criminal convictions and, if necessary, suspend dangerous drivers from its rideshare application. Failure to protect app users could make Uber liable for certain accidents. Liability might also arise if the rideshare company failed to investigate and suspend dangerous Los Angeles Uber drivers with a history of poor customer reviews and driving reports. The law actually requires rideshare companies to employ zero-tolerance policies for certain drunk driving and felony-level offenders.
Likewise, Uber drivers must undergo mandatory driver safety training. This training must address accident prevention, defensive driving practices, techniques for avoiding common accident-causing factors, and sexual misconduct identification. Rideshare lawyers can perform independent background and safety investigations to determine if Uber violated the safety provisions of BPC § 7458 and § 7459. If these violations contributed to your accident involving Uber, a rideshare attorney might help you recover compensation from Uber.
UBER's $1,000,000 Liability Insurance Policy
Most private auto insurance policies disclaim liability for rideshare injuries. This lack of coverage means riders and drivers injured in Uber accidents cannot typically recover compensation from the vehicle's private insurance policy. As such, Uber must provide a $1,000,000 umbrella insurance policy to cover third parties – including rideshare passengers, pedestrians, and other drivers – not otherwise covered by an appropriate commercial insurance policy.
This umbrella policy only covers drivers actively engaged in providing rideshare services as defined by BPC § 7463(j). Active engagement means the period between accepting and completing a rideshare or delivery request. For example, riders injured while traveling in their requested Ubers or others injured by Uber drivers traveling to complete rideshare requests might file these umbrella insurance claims. However, this third-party liability policy does not cover accidents occurring:
While the driver is logged onto the app but waiting for a new request
After the rider/requestor cancels the request, even after the driver departed
If the driver abandoned the request or substantially detoured
After actual drop off if the driver/rider failed to complete the checkout process
When the driver logs off the rideshare application
If the driver perpetuated fraud, like intentionally failed to register drop-offs or created fraudulent requests to trigger coverage
Uber drivers have certain extended benefits for accidents occurring while they're logged into the application but waiting for new requests. Uber drivers may demand lost wage and injury coverage, similar to workers' compensation benefits, for themselves and dependents after qualifying accidents. This unique policy also provides up to $1,000,000 in coverage. Experienced Los Angeles Uber crash lawyers might help both injured drivers, passengers, and affected third parties understand applicable coverage and make strong insurance compensation claims.
Who is liable in an Uber accident?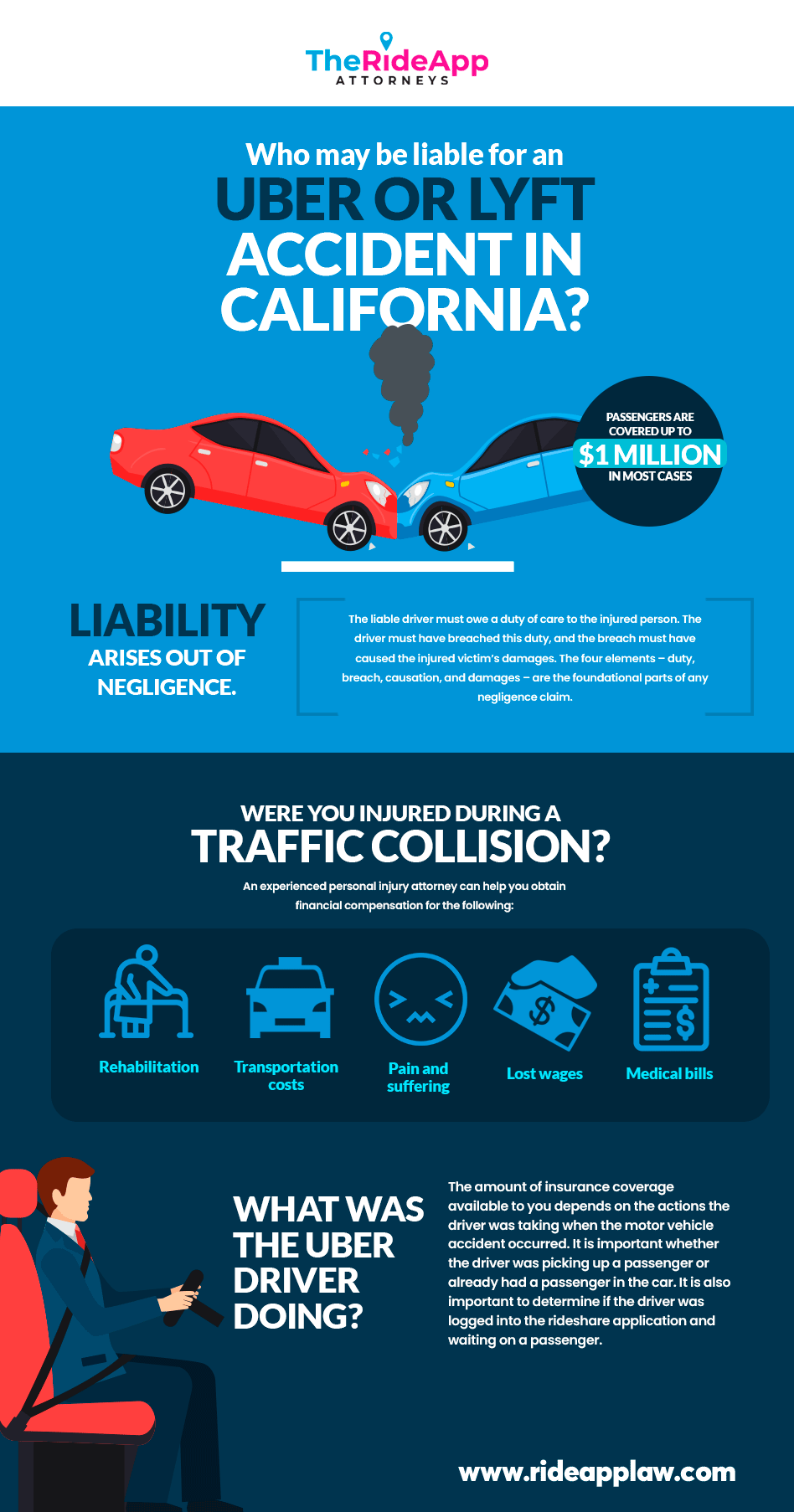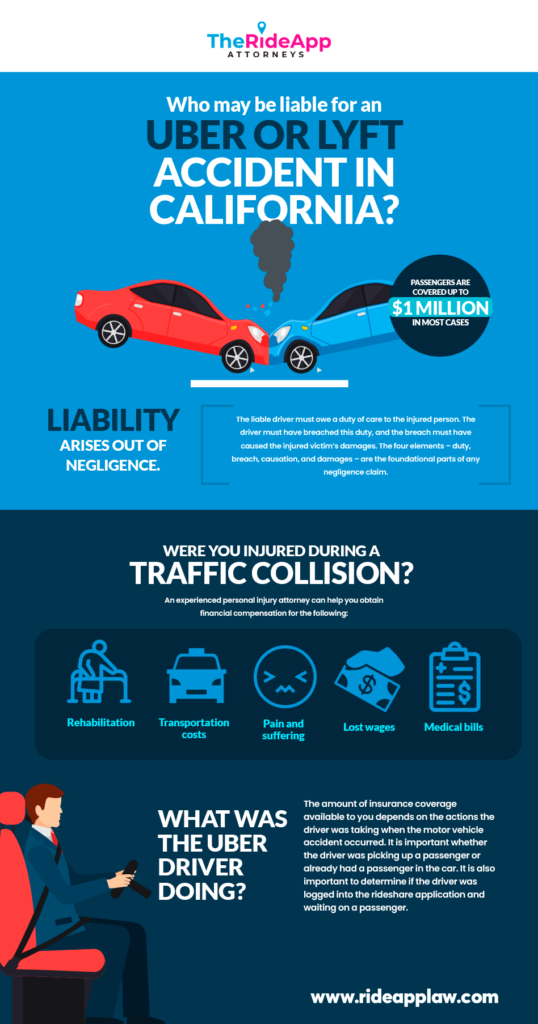 Download now!
Rideshare Insurance Coverage And Gaps
Uber's insurance policy does not generally provide coverage for motor vehicle accidents occurring while the driver is logged into the application and waiting for a customer match. However, the Uber driver's automobile insurance company may argue that switching on the application triggers commercial use of the automobile. In this case, the Uber driver's insurance company may attempt to deny coverage.
Ride App Law Group, LLP can communicate with insurance companies for you so you can focus on healing yourself and your family. Our Los Angeles Uber accident attorneys possess the required knowledge and experience related to Uber accidents and liability disputes.
If a rideshare driver is not matched with a potential customer, then the driver may be liable for the motor vehicle accident. Both insurance companies may attempt to deny coverage and refuse to pay the claim. Contact our law firm today if you are dealing with these serious insurance conflicts related to an Uber accident or would like help filing your claim.
What Financial Compensation Can I Get for LA Uber Accidents?
California personal injury compensation laws still apply to injured claimants requesting compensation following Uber vehicle crashes. Qualifying claimants may demand financial damages for any economic and non-economic losses caused by the crash. Spouses might also demand appropriate damages. Personal injury damages may include compensation for the following:
Ambulance, emergency room, and hospital bills
Physician, chiropractic, and dental costs
Physical and occupational rehabilitation fees
Nursing and home caretaker costs
Lost wages, business opportunities, and commissions
Lost employment benefits, i.e., retirement contributions or health insurance payments
Lost enjoyment of life and previous hobbies
Physical pain and emotional anguish
Appropriate financial awards should include damages for past losses, like the initial ER bill, and reasonably anticipated losses, including future lost wages. Many accident attorneys retain qualified economic experts to calculate an Uber crash claim's true value, which is higher than most claimants expect. If a rideshare accident impacted your physical health, emotional stability, or career, discuss the value of your potential claims with one of the best Los Angeles Uber accident attorneys today.


Auto Accident Client
Tenny Mirzayan is the best out there. She handled our car accident case, and destroyed the other side. Farmers Insurance offered us $0, and she got us deep into the six figures. She did not let us get pushed around. Thank you!!!
-Lyle T.
Filing an UBER Crash Claim in Los Angeles County
Despite the passage of Prop 22, knowledgeable rideshare lawyers might still help claimants recover substantial damages following Los Angeles Uber vehicle collisions. Most viable cases settle with liable insurance providers, including Uber's umbrella coverage provider. Many claims even involve settlements with another negligent driver's insurance company, the vehicle owner, or the Uber driver.
The nature and structure of any offered settlements depend on the specific facts of your case. It's important to avoid accepting tempting but potentially insufficient settlement offers following Uber accidents. Many injured claimants jump at their initial settlement offers before fully recovering from their injuries. While serious car accidents often leave claimants with unmanageable medical bills and without a steady income, it's important to consult with LA counsel to avoid waiving future claims.
Benefits of Retaining LA Uber Accident Counsel
Whether you were clipped at LAX, rear-ended on the 405, or struck on Rodeo Drive, Uber accidents necessitate experienced rideshare attorneys. Many states, including California, passed unique legislation to cover the unprecedented legal disputes stemming from Uber's ride-sharing platform. Do not go up against Uber's corporate attorneys without the experienced Los Angeles Ride App Attorneys on your side. We offer contingency fee arrangements to qualifying clients, meaning you might recover needed compensation without any upfront or out-of-pocket costs. Call us today for your free Uber accident consultation.
If you need legal representation regarding an Uber accident, contact Ride App Law Group, LLP today. We are backed by years of experience. Our personal injury law firm can assist you with any questions you may have and schedule you for an intake appointment. Call us at 888-754-9023 to learn more about the legal services we provide. We handle rideshare cases, and our experienced attorneys offer exceptional legal representation.
Find The Right Los Angeles Uber Accident Lawyer Near You
If you have sustained injuries due to an Uber accident, you might want to contact an Uber accident lawyer near your location. Our expert attorneys at Ride App Law Group have years of experience defending victims of Uber crashes.
Our Uber accident lawyers will tirelessly fight for you and your family to get the best possible outcome. If you are located in Los Angeles and you are looking for a trustworthy Uber accident lawyer near you contact Ride App Law Group right away.